PIZZANAUT
(scroll down for English)
ASUKOHT:
Roseni 13, Rotermanni kvartal, Tallinn
HINNAD:
Pitsad 7 - 15€

Street food 7 - 12€

Pearoad 13 - 21€

Salatid 9 - 12€

Magus 5 - 6€
ATMOSFÄÄR: Suur ja kohati isegi veidi kõle ruum, mille keskel laiutab suur pitsaahi. Küll aga on kogu Pizzanauti visuaal ja illustratsioonid seintel nii kihvtid, et avar ruum ei häirigi. Ehk ongi Pizzanauti eesmärk tekitada külalises selline sürr tunne, et oled kuskil lõputus tumedas pitsakosmoses?
Kes veel otsi kokku ei viinud, siis nimi Pizzanaut on tulnud sõnast kosmonaut ehk kogu sisutus on kosmose-teemaline. Ruumi poolest tundub super koht ürituste korraldamiseks.
Pizzanaut avati käesoleva aasta kevadel ehk tegemist on küllaltki värske kohaga. Pitsa on kogu kontseptsiooni keskmes, kuid huvitaval kombel ei olegi pitsa see, mille pärast me sinna tagasi läheks.
Ei teagi kas on selles, et Tallinna pitsatase on väga kõrge või olid kõik ülejäänud road Pizzanautis lihtsalt paremad. Pitsad on väga maitsvad, aga jäid meie arvates alla ülejäänud huvitavale kirju-mirju menüüle. Kui tervet arvustust läbi ei viitsi lugeda, siis meie suurim soovitus on proovida nende poutinesid ja magustoite!
Menüü on neil tegelikult väga lai ehk suur osa jäi meil proovimata. Menüüd näeb siit: pizzanaut.ee/et/menuu/
PITSATAINAS
Kõige alus! Otseses mõttes.
Head pitsatainast saab teha mitmel erineval viisil. Võrreldav näiteks muusikaga - igaühel on oma maitse. "Hea" on personaalne ning tihti on hea just see, millega lihtsalt ära oleme harjunud.
Pizzanauti peakokad on pitsakunsti õppinud Firenzes. Taignaga ümberkäimine on ülimäärav osa pitsa lõpptulemuse juures. Pizzanauti pitsad on õhukesel ja krõbedal põhjal ning tainas on valmistatud juuretise ja kuivpärmiga.
Võrdluseks toome Jahu Tänavagurmee ja Kaja Pizza Napoli style pitsad, mis on veidi pehmemal, kuid siiski õhukesel põhjal ning taigna valmistamise meetod on teistsugune. Kasutatakse topeltkääritamise meetodit ehk tainas valmib pärmivabalt.
Siin tulebki mängu isiklik eelistus - kas krõbedam või pehmem? Meile näiteks meeldib poolpehme pitsapõhi rohkem. Võib-olla oleme sellega end lihtsalt väga ära harjutanud pärast pidevat Jahu Tänavagurmee külastamist, kuid Pizzanauti krõbe pitsa tundus selle kõrval kuidagi kuiv. "Mahlakust on puudu" oli kommentaar, mis kerkis üles pea iga pitsa juures. Kindlasti soovitame kõigil Pizzanauti siiski külastada, et enda arvamus asjast kujundada.
Lisaks krõbedale pitsapõhjale on Pizzanautis ka küllaltki krõbedad hinnad. Pitsade keskmiseks hinnaks on 11,5€.
Street food
Siia kategooriasse kuuluvad Pizzanauti Poutined. Poutine on Prantsuse-Kanada klassika, mis on Kanadas tõsiselt populaarne. Põhimõtteliselt on see friikartul, mis on juustu ja kastmega üle kallatud. Pizzanaut pakub aga Poutinesid omas võtmes.
Poutine Loaded Fries (KRÕBEKANA) 9€
Adžika majonees / marineeritud sibul / käsitsi valmistatud friikartulid
Meie lemmik! Poutined on nagu mitmikud, kes erinevad üksteisest detailide poolest. Antud poutine'i puhul oli krõbekana see, mis selle kombo nii heaks tegi. Ausõna - krõbekana oleme elu jooksul ju saanud igalt poolt, aga see oli raudselt üks parimaid. Krõbe ja mahlakas üheaegselt. RECOMMEND.
Teriyaki Salmon 11€
Teriyaki kaste / seesami seemned / avokaado / õrn soolatud kurk / redis / riisikrõps / tillimajonees / pošeeritud muna
Nimi on ahvatlev, aga roog ise oli lihtne ning midagi jäi siiski vajaka. Alateadvuses ilmselt ootasime veidike enam teryaki maitset või mingit muud tugevat maitset, sest enamik komponente olid väga õrna maitsega. Pole halb, aga ei kuulu ka uuesti tellitavate roogade hulka.
Kindlasti kõige tervislikum meie roavalikust.

Currywurst 8€
kurgikaste / marineeritud sibul / käsitsi valmistatud friikartulid / salsa kaste
Üks suurimaid üllatajaid. Ei olegi ammu midagi nii lihtsat ja kodust kohanud moodsa streetfoodi nimistus. Värskendav vaheldus igasuguste moodsate trendiroogade (bataadifriikad, poke bowl, bao) vahele tänavatoidu maailmas. Tõesti hea! Kui oled sama suur vorstifänn, kui meie Susann, siis pead kindlasti seda tellima.
Poutine Loaded Fries (JUUSTUGA) 7€
sinihallitus / parmesan / käsitsi valmistatud friikartulid
Mitu tugeva maitsega juustu olid siin portsus kokku saanud ja tulemus oli lihtsalt imeline. Väga selline craving food. Soovitame!
Pizzanaudi Pizza 10.5€
San Marzano kaste / mozzarella / Salsiccia vorst / kartul / värske soolakurk / spinat / basiilik / oliiviõli
Kartul pitsal? Maitseb imekombel väga hästi. Sellest pitsast ei jäänud tükkigi lõpuks alles. Note to self: ära hinda raamatut selle kaane järgi.
Nelja Juustu Pizza 12€
pecorino / tallegio / grano podano / mozzarella juust / trühvli pasta / oliiviõli
See pitsa on ja jääb üheks suureks lemmikuks, kuid seda just tänu trühvlile. Selle puudumisel oleks juust pitsa ainus komponent ning maitse vajaks särtsu juurde. Trühvel on kindlasti staar siin!
Crudo Pizza 9.5€
San Marzano tomatikaste / mozzarella juust / basiilik / oliiviõli / Prosciutto crudo
Lihtne ja läks hästi peale. Pikka kirjeldust polegi vaja - väga nauditav.
Mereanni Pizza 14€
tiigerkrevetid/ kalmaarirõngad / teriyaki lõhe / mango-tšilli salsa
Ei olnud suur lemmik. Igal muul moel on mereannid meile meelepärased, aga pitsa peal väga ei istu. Ehk oli asi lihtsalt selles, et liiga palju erinevaid mereande oli kokku pandud? Kokkuvõttes - väga tugeva mere maitsega pitsa.
Pähklivõi kreem 6€
vaarikad / jäätis
Üllataval kombel olid magustoidud kõige paremad. Kes pole kunagi peanut butter cupi proovinud, siis tasub proovima minna! Päris toitev magustoit, igasugune sweet craving saab rahuldatud. 100% RECOMMEND!
Kosmo Wou 5€
jäätis / vahvlid / marmelaad / bežee / šokolaadi-maasikakaste
It is, what it is and it is good. Tekkisid lahkarvamused - ühele ei tekitanud elevust ega wow efekti (v.a välimus). Teised aga leidsid, et ei olegi vaja wow efekti vahvlitest otsida - kogu see kombo pehmel ja soojal vahvlil oli lihtsalt niii hea.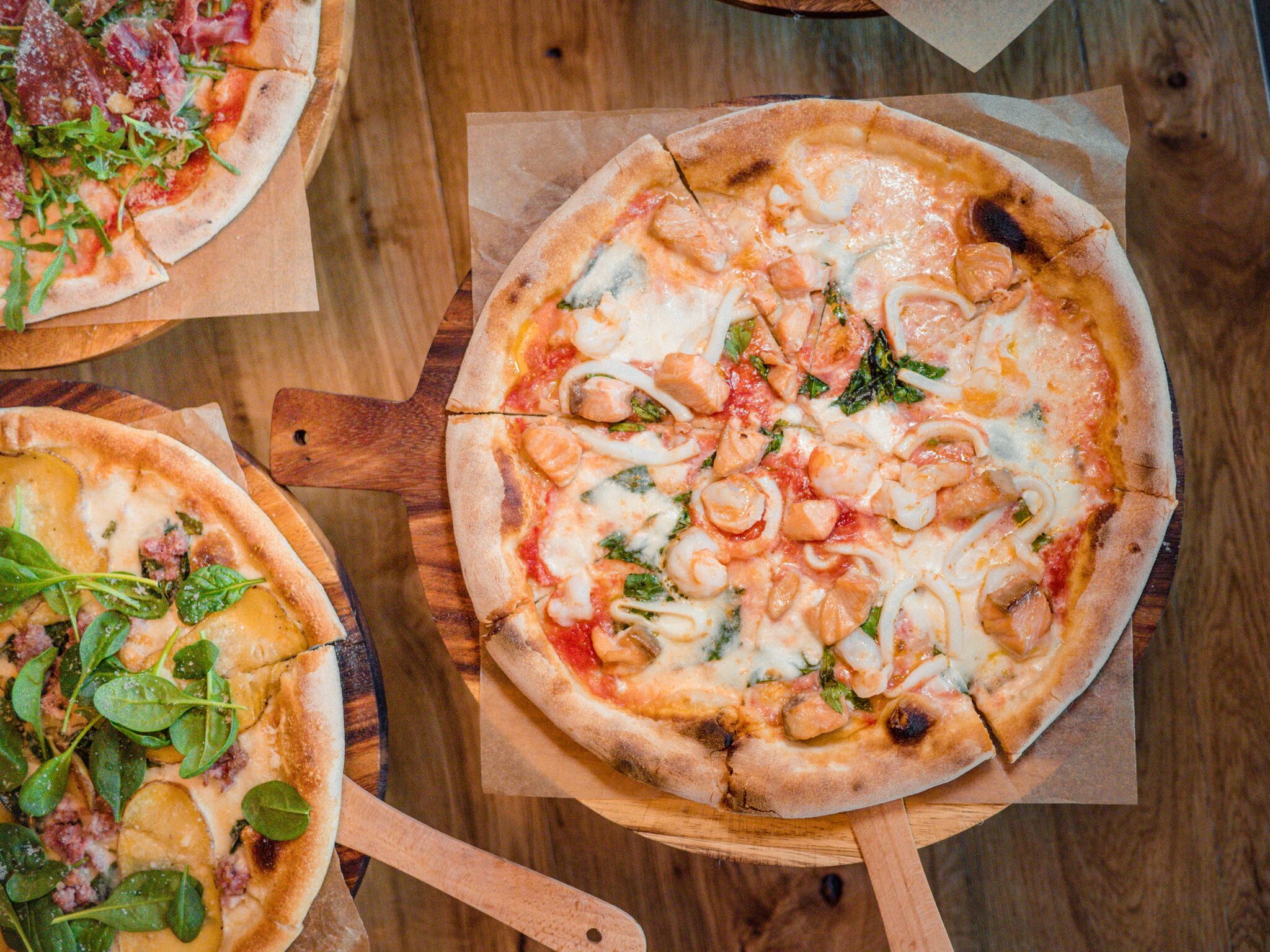 LOCATION: Roseni 13, Tallinn
PRICES:
Pizzas 7-15€
Street food 7-12€
Mains 13-21€
Salads 9-12€
Desserts 5-6€
ATMOSPHERE: A quite spacious room, in the middle of which stands a large pizza oven. The room is truly big and can leave you feeling a little bleak. However, the illustrations on the walls are so damn cool that the bleakness doesn't bother that much. Perhaps the purpose of the spacious room is to give the sensation of being in an endless, surreal pizza-space? It would definitely be a great place to organize an event.
Pizzanaut was opened in the spring of 2018 so it's a fairly new place. As the name suggests, pizza is at the center of the whole concept, but surprisingly pizza is not the reason we would go back there.
We're not sure whether it's because the level of pizza-making in Tallinn is so damn high or all the other dishes in Pizzanaut were better. Their pizzas are delicious, but in our opinion, the other dishes on the menu were more impressive. If you don't want to read the whole review, our main suggestion is to try their poutines and desserts!
We've been doing a fair amount of pizza-eating these past few months, so distinguishing a good pizza dough from a bad one is supereasy (although a bad pizza dough is still good because cmn, it's pizza…).
A good pizza dough can be made in many different ways. Comparable, for example, with music - everyone has their own taste - "good" is very personal, and often good simply equals with what we're used to.

The chefs of Pizzanaut have studied the art of pizzamaking in Florence. Their pizzas are thin and crispy, and the dough is made with leaven.
For comparison, the pizzas that Jahu Tänavagurmee and Kaja Pizza make in Napoli-style are slightly softer, but still thin, and the method of making the dough is different.
It's all about personal preference. We prefer the softer pizza base. Maybe we just got too used to it by eating it every week, but Pizzanaut's crispy pizza seemed somewhat dry next to it. "It could use a little juicyness" was a passing commentary on almost every pizza. We definitely recommend visiting Pizzanaut and deciding for yourself.
In addition, the crusty pizza base is not the only crispy part of Pizzanaut. The prices are quite high in our opinion - the average price for a pizza is €11,5.
STREET FOOD
Mainly Poutines in this category. Poutine is a French-Canadian dish consisting of French fries, cheese and sauce. Pizzanaut makes them in a little more interesting by adding a fair amount of freshness to the dish.
Poutine Loaded Fries (CHICKEN) €9
crispy chicken / Adzika sauce / pickled onions / handmade French Fries
Definitely one of our favourites! The crispy chicken was honestly one of the best we've ever tried - crispy and juicy at the same time. RECOMMEND!
Teriyaki salmon €11
Teriyaki sauce / sesame seeds / avocado / light salted-cucumber / radish / rice-crisp / dill-mayonnaise / poached egg
Well, the name is promising but the dish didn't feel quite complete, it was missing something strong-flavoured, because all the components had such a light flavour to them. We were probably expecting a more intense taste of teryaki or somethting else that would spice things up. Can't say it was bad, but it doesn't belong among the dishes we would order again. Still, the most healthy one from what we ordered.
Currywurst €8
cucumber-sauce / pickled onion / hand-made French fries / salsa sauce
One of the biggest surprisers! We hadn't met something so simple and "home-made" among street food options for a long time! Nicely refreshing alternative in our street food world within all the trendy dishes like sweet potato fries, poke bowl, bao etc. It really was good! If you love sausages as much as our Susann, you better go and try it out.
Poutine Loaded Fries (CHEESE) €7
blue cheese / parmesan / hand-made French fries
Two, quite strong flavoured cheeses meet in this dish and the result is amazing! We'd call this a craving food. Definitely recommend!
Pizzanaut's Pizza €10.5
San Marzano sauce / mozzarella / Salsiccia sausage / kartul / fresh salted cucumber / spinach / basil / olive oil
Potato on a pizza? It surprisingly tastes very good. We finished the pizza quite quickly. Would definitely recommend this.
Four Cheese Pizza €12
pecorino / tallegio / grano podano / mozzarella / truffle paste / olive oil
This pizza is and remains as one of our fav pizzas but only thanks to truffle. Without it that pizza would only consist of cheese and the taste would really need some more spark.
Crudo Pizza €9.5
San Marzano tomato sauce / mozzarella cheese / basil / olive oil / Prosciutto crudo
Simple and good. Wasn't perfect, but very enjoyable.
Seafood Pizza €14
King prawns/ squid / teriyaki salmon / mango-chili salsa
Wasn't our biggest favourite. In general we adore seafood, but here on pizza it just didn't work out for us. Perhaps it was about too many sea creatures put together on a pizza? In general- a pizza that tastes too much like some kind of salty sea.
Peanut butter cream €6
raspberries / ice-cream
Surprisingly the desserts were the best ones at Pizzanaut. Who has never tried peanut butter cup, it's worth a try! Quite a massive portion that satisfies all your sweet cravings. 100% RECOMMEND!

Cosmo Wou €5
Ice-cream / waffles / marmelade / merengue / chocolate-strawberry sauce
It is, what it is (and it is good). We had 2 types of thoughts - one of us didn't find the dessert attractive neither with wow effect (except the outlook). Others decided that there is no need for a wow effect from waffles- the whole combo on soft and warm waffle is just soooo good.