VIGRI
....
ASUKOHT: Purje 8, Pirital (jahisadama juures)
TOIT: 100% VEGAN BUFFEE! Taskukohane ja mitmekesine valik igasugusteid taimseid roogasi. Ka magustoiduvalik on kiiduväärt.
MILJÖÖ: Minimalistlik ja põhjamaine - heledad toonid ja palju puitu. Söökla-stiilis toidukoha kohta küllaltki suured ruumid ja olemas on isegi terrass! Väga sõbralikud teenindajad samuti.
SOOVITUSED: Soovitame kindlasti proovima minna ka neil, kes ei pea end veganiteks - kuna maksad ainult grammide eest, siis on hea võimalus proovida kõiki toite ja saada hea ülevaade vegantoidu maailmast. Kes veel odavamalt soovib süüa siis kell 19-20 on kogu buffee -20%.
..
LOCATION: Purje 8, in Pirita (next to the yacht port)
INTERIOR: Minimal nordic design. Light tones & wooden details. Although it is a buffet-style cafe, they have a quite spacious seating area and a nice terrace as well!
FOOD: 100% VEGAN BUFFET! It's affordable and has a big variety of all sorts of vegan food. The dessert selection is definitely praiseworthy as well!
RECOMMENDATIONS: We definitely recommend to try it out for all the non-vegans - paying for only the weight of your food gives you the opportunity to try as many different vegan dishes as you'd like. A good chance to get an overview of the vegan food world, if you're new to this. Also, if you want to get even cheaper food, Vigri cafe gives a 20% discount on all the buffet from 7PM to 8PM.
....
....
HINNAD:
PLUSSID:
Odav!

Võid proovida kasvõi kõiki toite buffeelauast just nii suurte portsjonitena, kui ise soovid

Lai vegan magustoiduvalik

Muutuv menüü

Terrass

Pakuvad ka take-away võimalust

Korraldavad vestlussarju ja filmiõhtuid

Kohapeal ka mini veganpood

Võimalus tellida vegan piknikukorv!

Pannkoogi pühapäevad!

Hommikuti värsked saiakesed
MIINUSED:
Asukoht raskesti leitav (isegi google maps'iga)
KODULEHT: www.vigrikohvik.ee
..
PRICES: 100 grams = 1.6€
PROS:
Cheap! 100 grams = 1.6€

You can try all the foods because you only pay for the grams and not the different meals

Broad selection of vegan desserts

Changing menu

Terrace

Take-away

Vegan-themed talk-nights & movie nights

Small vegan shop on spot

You can order a vegan picnic basket form them!!

Pancake Sundays

Fresh pastries every morning
CONS:
Hard to find the location (even with google maps)
WEBPAGE: www.vigrikohvik.ee
....
....Kuna tegemist on vegan-buffeega, siis tullakse iga iga päev välja uue menüüga. Meie käisime Vigri kohvikus 12. juulil ja menüü oli selline: .. Since it is a vegan buffet, there is a new menu every day. We visited Vigri Cafe on the 12th of July and this was the menu: ....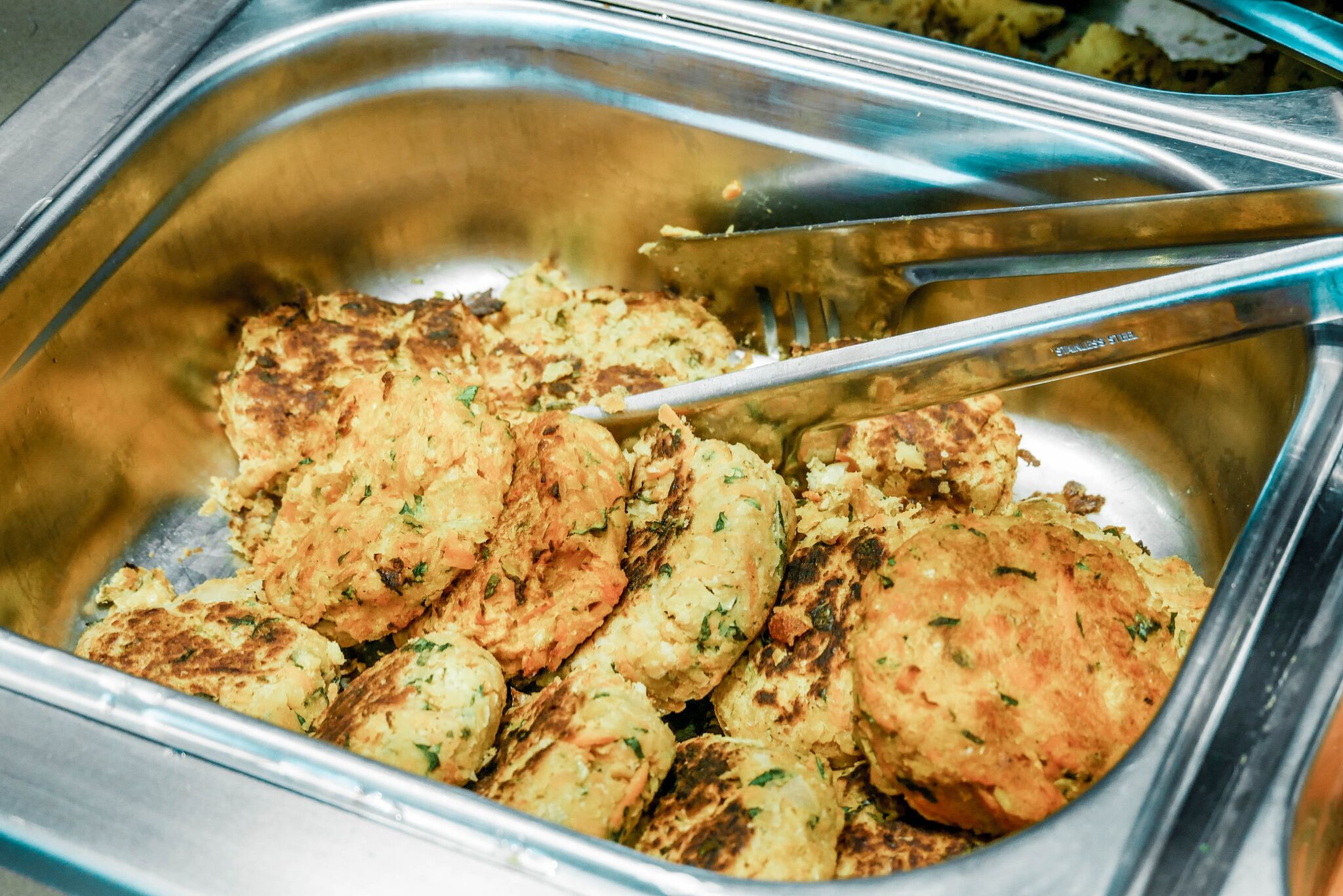 ....Kikerherne kotletid porgandi ja bataadiga .. Chickpea cutlets with carrot and sweet potatoes....
.... Me kõik pidasime neid ühtedeks oma lemmikuteks. Väga maitsvad! .. We all considered them to be one of our favorites. Very tasty! ....
.... Läätsekarri kookospiima ja peediga .. Lentil curry with coconut milk and beetroot ....
.... Ka kindlasti midagi, mida julgeme soovitada. .. Definitely something we dare to recommend ....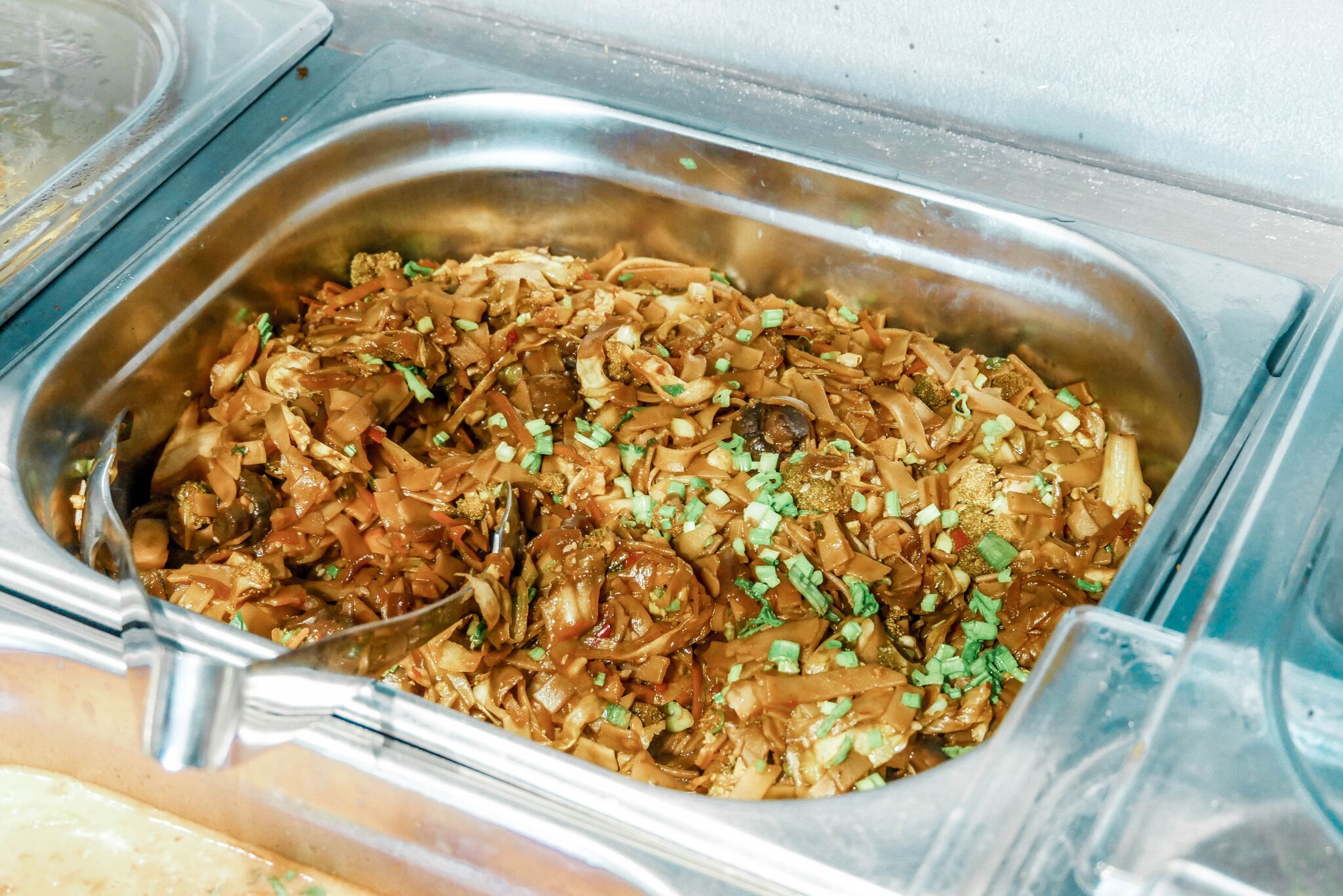 ....
Indioneesiapärane riisinuudli roog
Recommend! Kes on varem näiteks Balil käinud, siis tuleb kindlasti tuttav ette - selline üsna mahe nuudliroog.
..
Indonesian rice noodle dish
Recommend! For those who've ever visited Bali before, will certainly be familiar with this rather mild Indonesian noodle dish.
....
....Ürdikartul..Roasted potatoes with herbs....
....
Nimi räägib iseenda eest, samuti väga hästi valmistatud!
..
Very well made, yum!
....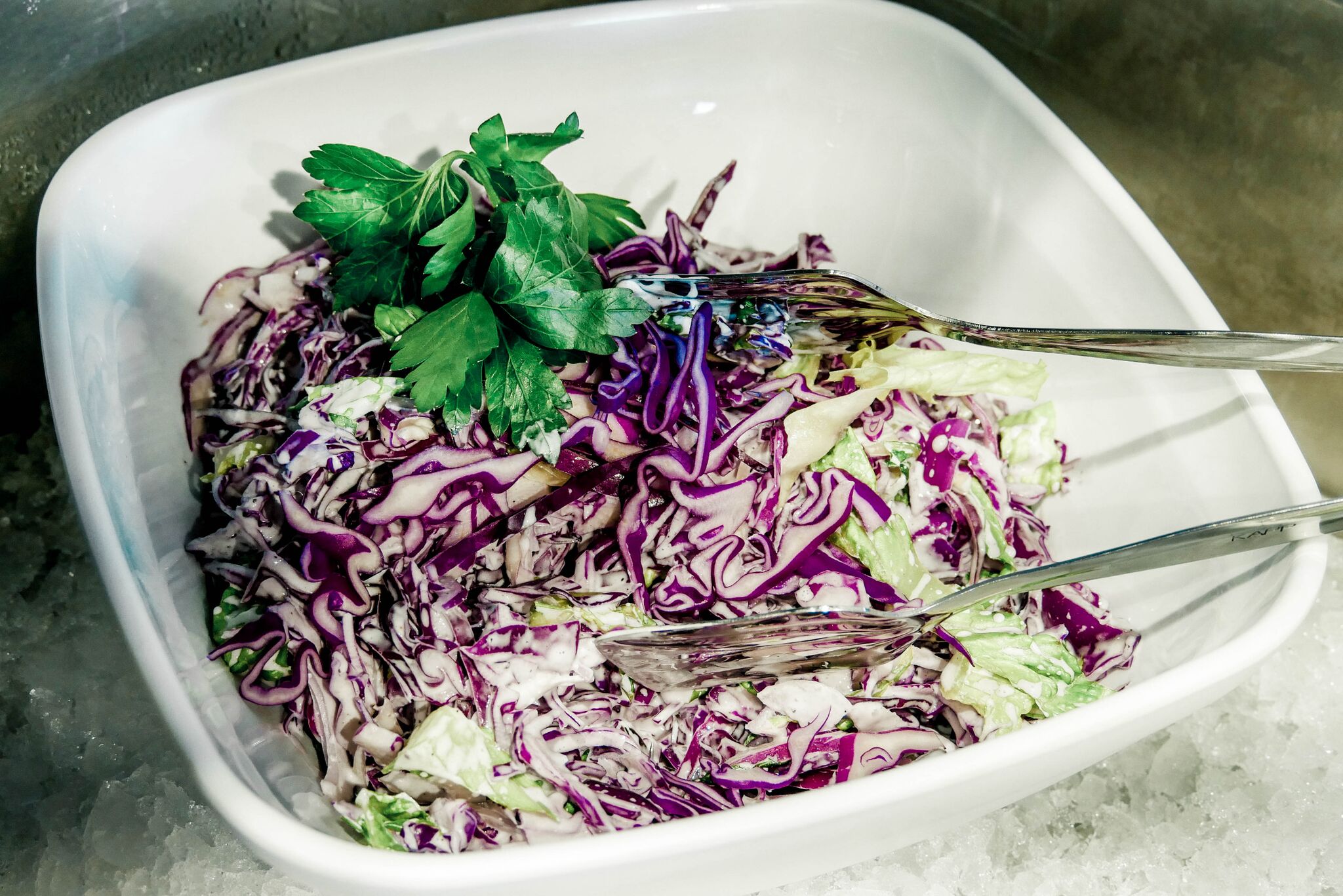 ....Coleslaw salat vegan majoneesiga..Coleslaw salad with vegan mayonnaise....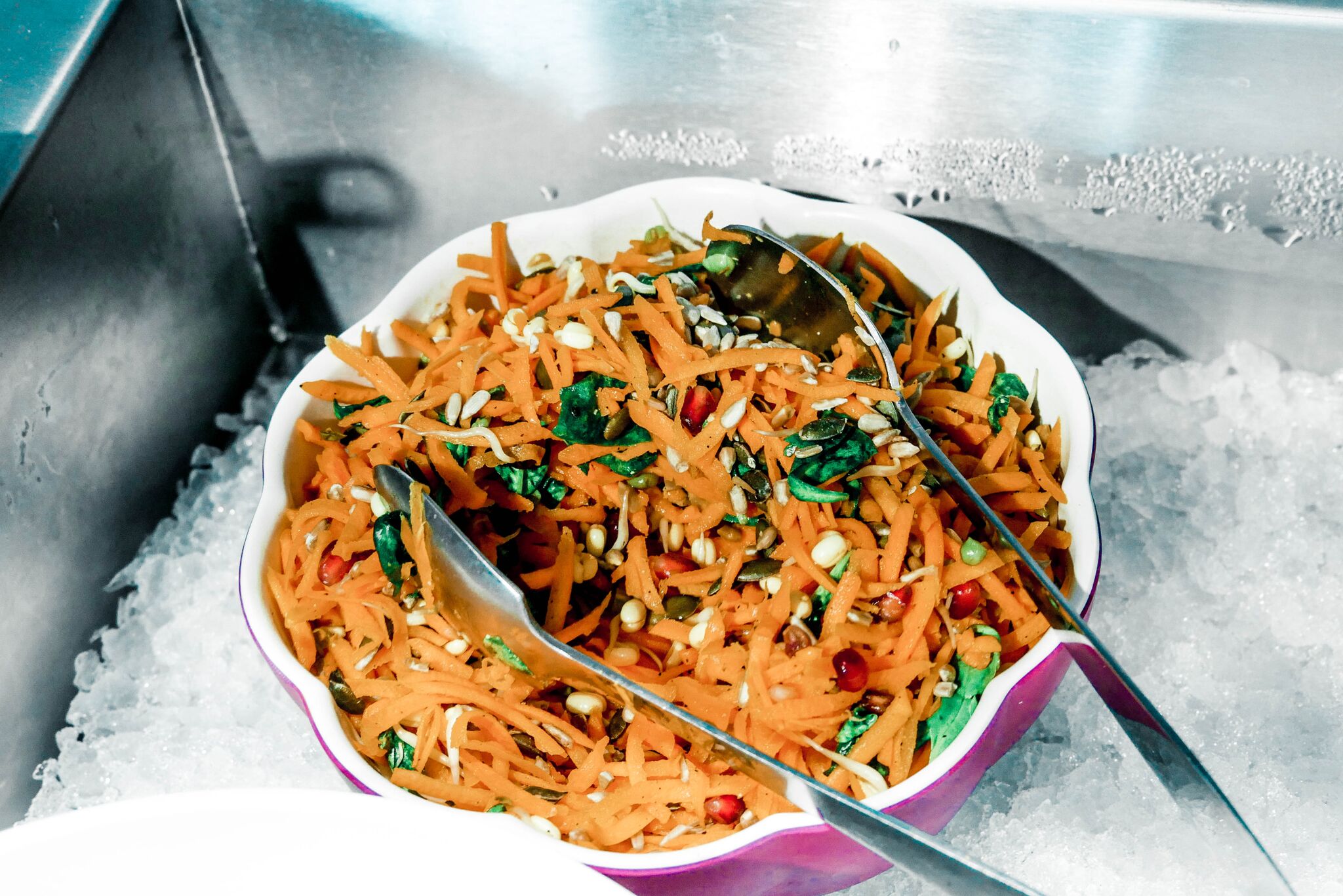 ....Porgandi salat röstitud kõrvitsa- ja päevalilleseemnete ning mahlaste granaatõunaseemnetega..Carrotsalad with roasted pumkin- and sunflower seeds and pomegranate seeds....
....
See oli heas mõttes väga huvitav salat, klassikaline porgandisalat oleks ehk veidi igavaks jäänud.
..
This was a very interesting salad in a good sense, a classic carrot salat might have been a little boring.
....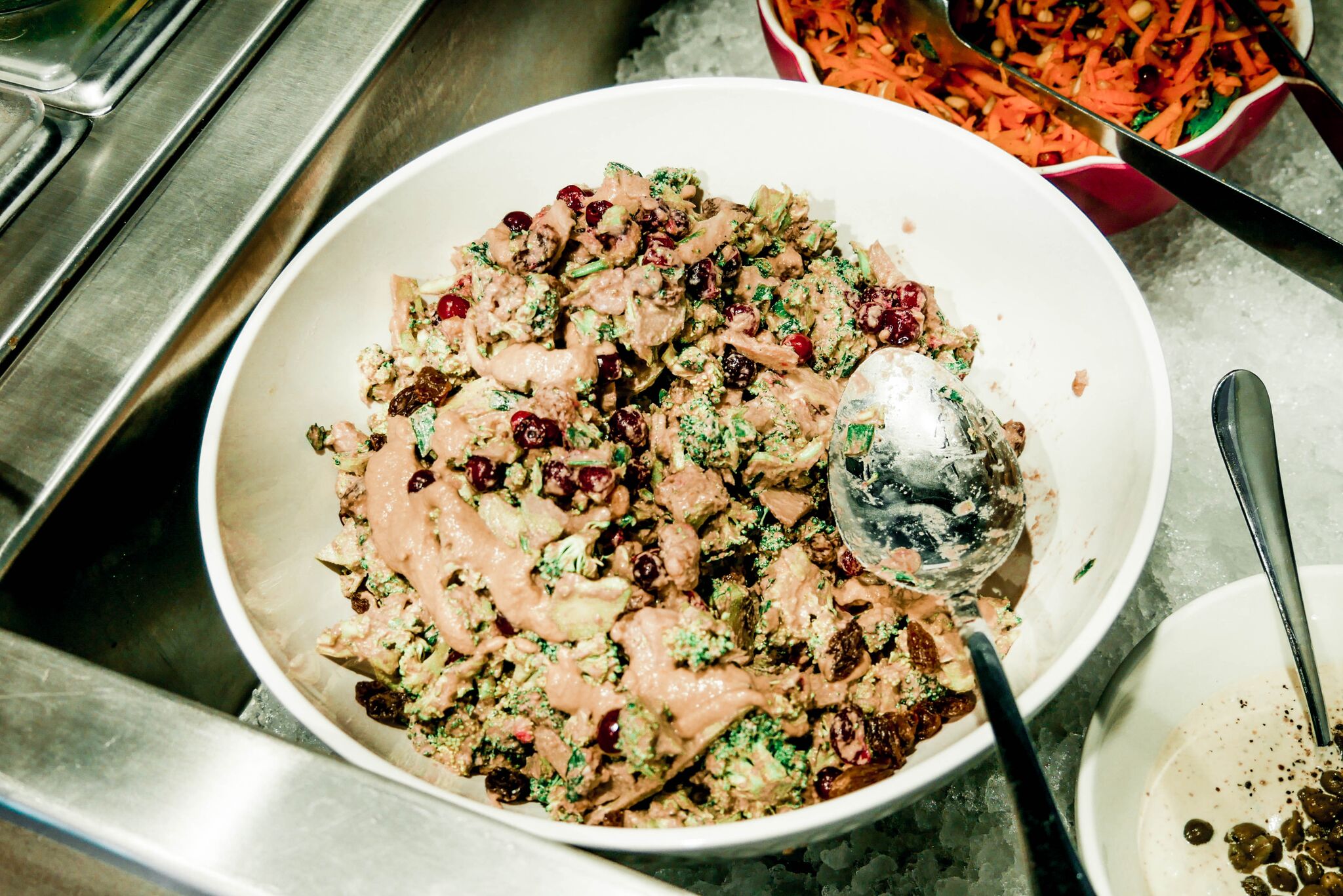 ....Brokkoli-jõhvika salat..Broccoli and cranberry salad....
....
See oli üks huvitavamaid brokkoli-roogasi, mida siiani proovinud oleme. Sellist mix'i pole varem kohanud, tore kui selline ülitervislik asi nagu brokkoli nii maitsvaks ka tehakse.
..
This was a very interestig way of serving broccoli! isn't is great when something superhealthy is made supertasty a well?
....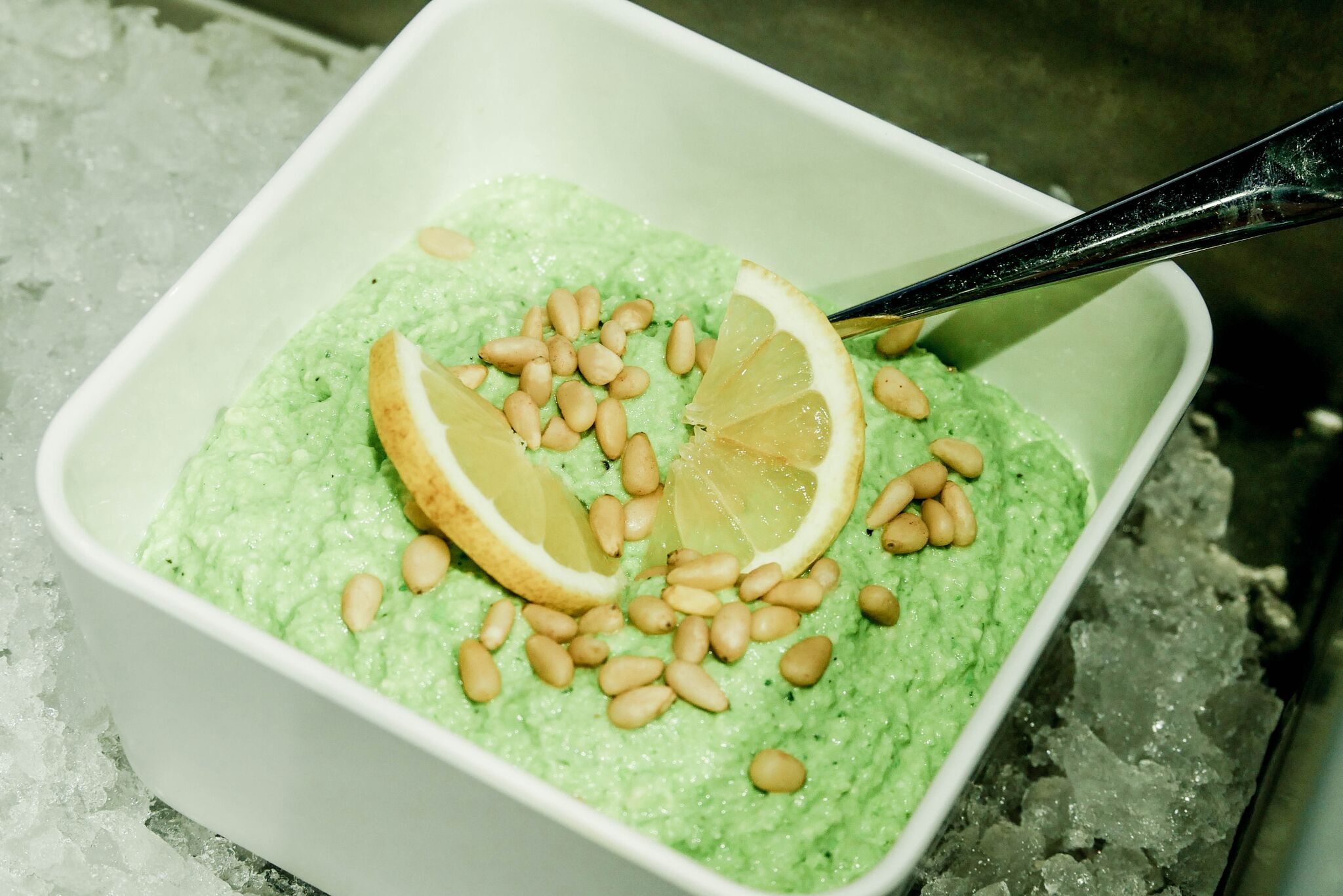 ....Herne-mündi pesto..Pesto with peas and peppermint....
....
Väga värske! Me ei osanud seda ainult väga millegagi kokku sobitada, aga pole hullu - maitses nii hästi, et kühveldasime niisama lusikaga.
..
Very fresh! Although we couldn't really match it with anything on the menu, we enjoyed eating it clean.
....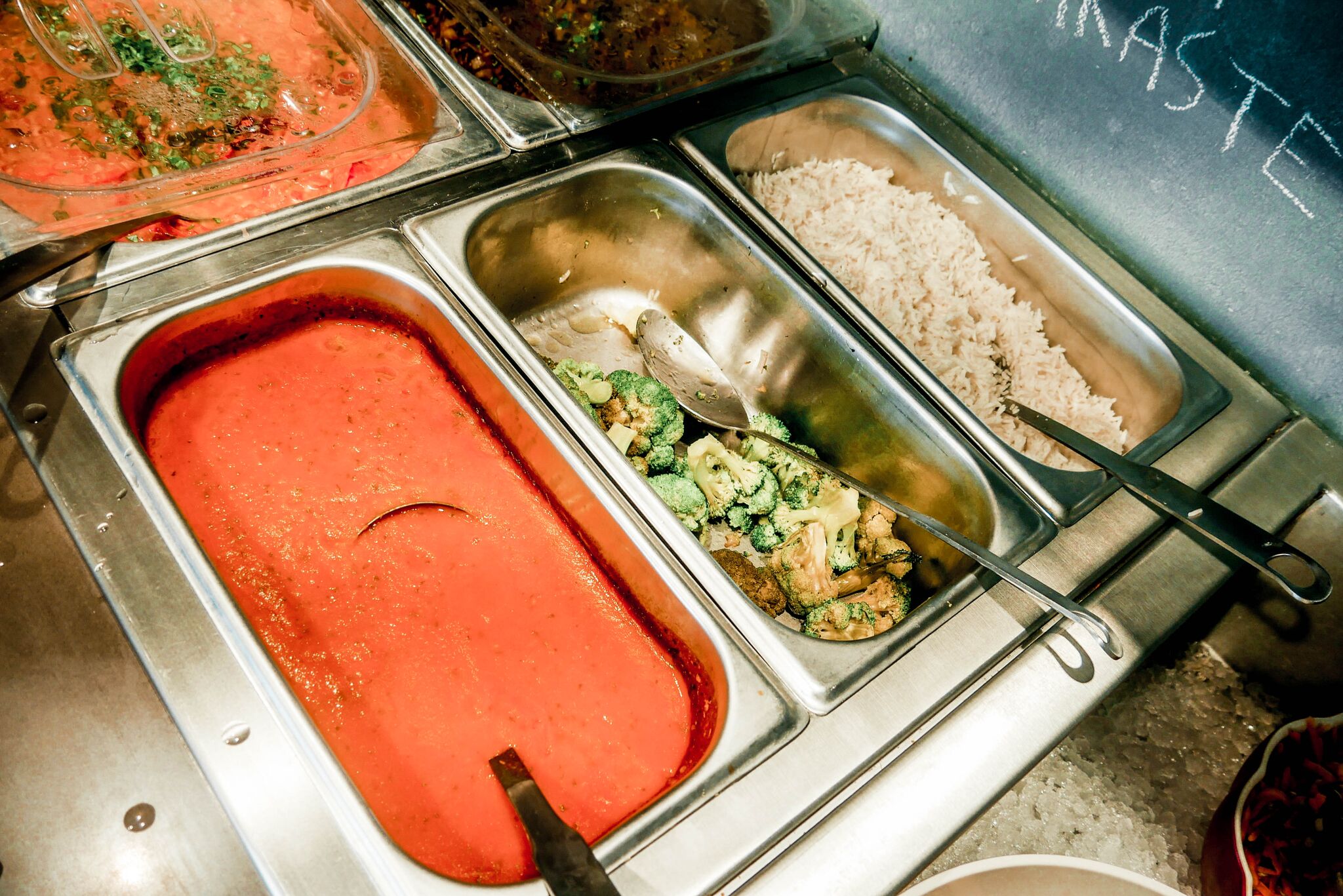 ....Riis,
aurutatud brokkoli,
tomatikaste..Rice, steamed broccoli, tomato sauce....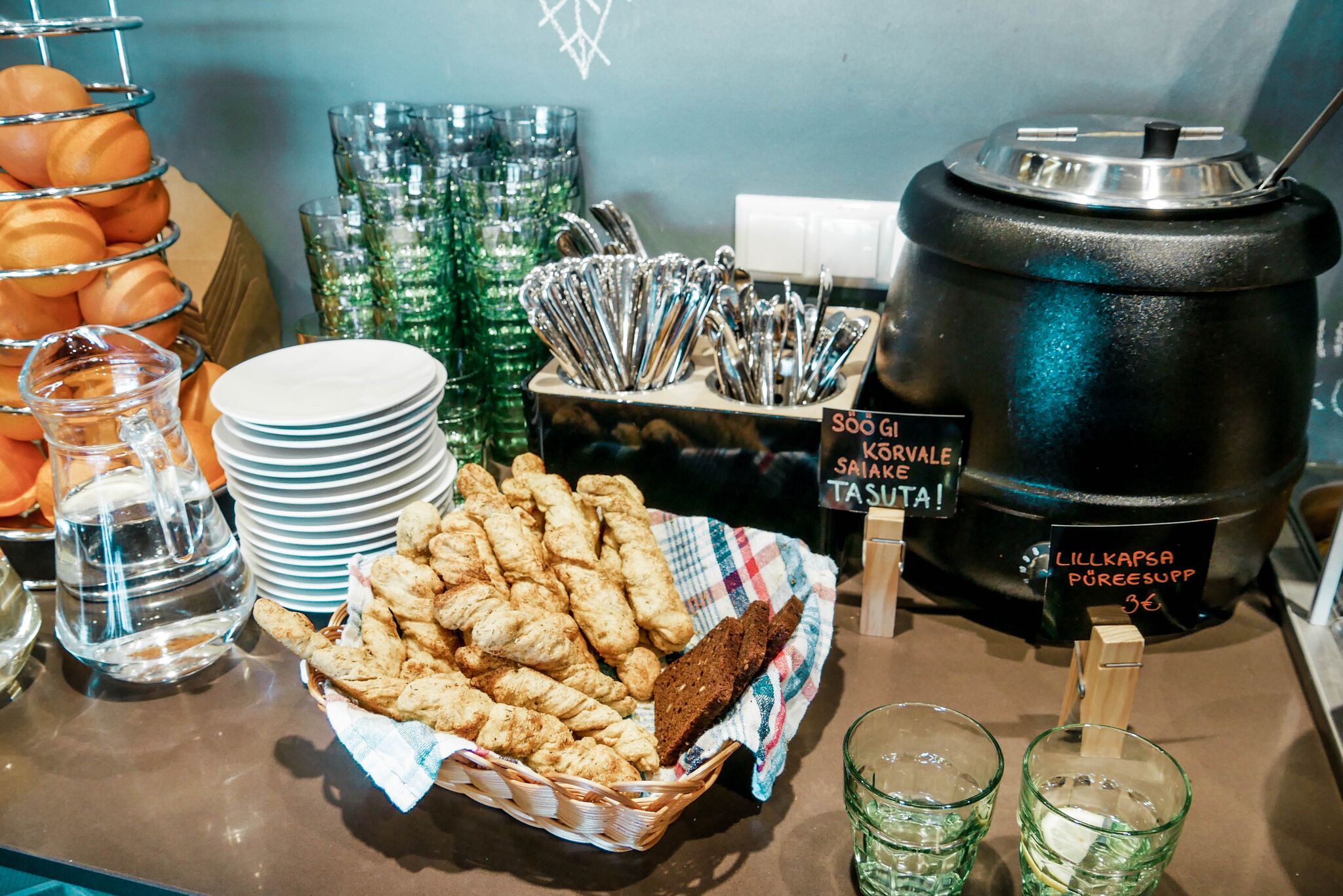 ....Lillkapsa-kartuli püreesupp,
r
osmariini-ürdi keerud speltajahust..Puree soup with cauliflower and potatoes, Rosemary-herb pastries....
....
Püreesupp oli nii hea kreemine! Saiakestest me ei olnud väga vaimustuses, üsna kuivad olid.
..
The soup was very tasty and creamy! The pastries though, weren't as good, quite dry even.
.... MAGUSTOIDUD .. Desserts ....
....Rabarberi purukook..Rhubarb cake....
....
Väga suvine kook ja hea valik neile, kes ei naudi väga tummiseid magustoite.
..
Very summery cake! A great choice for those who enjoy lighter and slightly sour desserts.
....
....Mustika mousse tort..Blueberry mousse cake....
....
Selle tunnistasime üheskoos Vigri parimaks magustoiduks. Ei saanudki aru, et tegu vegan koogiga oleks olnud. See mousse, mis koogitükki katab oli imepehme ja maitsev!
..
Our shared opinion is, that this was Vigri's best cake. Couldn't even tell that it was a vegan cake, so soft and tasty!
....
....Kõrvitsa-datli keeks..Pumkin-date cake....
....
Tekitas mingil põhjusel kerge jõulutunde, kaneel ehk? Väga mahlane igal juhul!
..
This cake had a Christmassy flavour to it, maybe the cinnamon? Pluss points for the juiciness!
....
....Toorkakao-avakaado puding..Pudding of raw cacao powder and avocado....
....
Selle magustoidu osas tekkisid lahkarvamused:
1. Ideaalne hommikusöögiks! Üsna kerge ja mitte väga intensiivse maitsega.
2. Nägi hea välja, aga ei maitsenud üldse. Ootasime midagi rammusamat ja kakaopudingu sarnast, aga see maitses tõesti nagu puhas toorkakao ja veel midagi hapukat.
..
We had different opinions on this.
1. Would be perfect for breakfast! Quite light and very pleasant.
2. Looks good, but doesn't taste as good. We were expecting something thicker and creamier, but this tasted like raw cacao powder with something sour.
....
....Muffin maasika-vanilje vahukoorega..Muffin with strawberry-vanilla whipped cream....
....
See muffin nägi välja nagu multifilmist! Tavaliselt liiga ilusad koogid ei maitse kõige paremini, selle kohta küll sama ei saa öelda. Ilus JA maitsev!
..
This muffin looked a little unreal, cartoonish even. Usually the prettiest cakes don't taste the best, but the same thing can't be said about this muffin. Beautiful AND tasty!
....
....Bataadi brownie..Sweet Potato Prownie....
....
See oli üks tummisemaid kooke kogu valikust. Ei olnud suur lemmik meie seas, pigem jättis külmaks.
..
This was the "darkest" cake out of all the desserts, quite sweet and thick. Was not a big favourite amongst us.
....