FINLANDIA CAVIAR TALLINN
....
ASUKOHT: Väike-Karja 1, Tallinn
MILJÖÖ: Tegemist on skandinaaviapäraselt minimalistliku ja väikese kohaga. Finlandia Caviar on samaaegselt nii kohvik, kui pood, mistõttu ei ole tegemist just väga luksuslikult sisustatud kohaga - kõvad toolid ja pisut tühi interjöör võivad luua veidi kõleda tunde, ent kiireks 10-minutiliseks mereandide nautimiseks sobib hästi. Kindlasti jättis koht aga väga usaldusväärse mulje, sest omaniku teadmised tooraine kohta on lõputud - tema huvitav jutt tekitas üha suuremat huvi delikatessidemaailma kohta, kuulasime (ja vaatasime ;)) teda suu ammuli! Müüjaga pikemalt vestlemine on väga soovituslik! Üldiselt sobib see koht väga hästi igal ajal kerge šampaklaasi kokkulöömiseks, sest miks mitte, eksole?
TOIT: KAAVIAR! Kalamari, austrid ja nendega kombineeritud erinevad lisandid. Valikut serveeritakse kohapeal väikese kogusena, mispärast pole tegemist kohaga, kuhu minna väga tühja kõhuga. Terve menüü koosneb degustatsiooniportsjonitest, et kliendil oleks võimalus erinevaid tooteid kõrvuti hinnata ning lemmik valida. Suurt rolli mängib ka alkohol, mida pakutavate delikatesside kõrvale hästi sobitada osatakse. See pereettevõte on Helsinkis tegutsenud juba aastaid ning on tuntud just oma kvaliteetse tooraine poolest. Valik on konkreetse suunaga ja väike, aga tooted on hoolikalt selekteeritud.
PLUSSID:
Eriline nišikoht

Toimib asjatundjate eestvedamisel

Kvaliteetne toodang

Asub vanalinnas
MIINUSED:
Ruumi kõledus

Kõrge hinnaklass

Jahe ruum, võta jakk kaasa!
SOOVITUSED: Kes kaaviari veel kunagi proovinud pole, siis see on kindlasti hea koht, kus sellega tutvust teha! Tahaks nimetada seda kohta kõrgklassi kiirtoidukohaks just tema hop in-hop out olemuse pärast. Finlandia Caviar on kohvik-pood gurmaanidele, kust saab kõike meelepärast kohapeal proovida ja koju osta!
FACEBOOK: facebook.com/FinlandiaCaviarTallinn/
KODULEHT: www.finlandiacaviar.fi/en/
..
LOCATION: Väike-Karja 1, Tallinn
INTERIOR: A quite small plave and very Scandinavian-like/minimalist interior. Finlandia Caviar is both a cafe and shop at the same time, which is why it is not a very luxuriously furnished place - hard chairs and a little empty interior can create a slightly cold feeling, but it's good for a quick enjoyment of great caviar.
The place left a very reliable impression, as the owner's knowledge of delicacy is endless - it was very interesting listening to everything he told us about what we tasted. Talking to the friendly guy behind the counter is highly recommended!
In general, this is a very good place for raising a glass of Champagne, anytime really, because why the hell not?
FOOD: CAVIAR, roe, oysters and various different sides mixed with them into exquisite snacks. The whole menu consists of small tasting portions, so the customer will have the opportunity to evaluate different products and choose their favorites. A great role is played by alcohol, which is well suited to the delicacies offered. This family-owned company has been operating in Helsinki for many years and is known for its high quality products. The assortment is specific and small, but the products are carefully selected.
PROS:
A unique place in Tallinn

It is run by professionals in the field

High quality produce

Situated in the Old Town
CONS:
A bit bleak interior

Quite pricy

Chilly inside, grab a jacket!
RECOMMENDATIONS: Never tasted caviar? This is definitely a great place to do it! Finlandia Caviar is a cafe-shop for gourmets, where you can try everything, compare everything and find your favourites!
WEBPAGE: www.finlandiacaviar.fi/en/
FACEBOOK: www.facebook.com/FinlandiaCaviarTallinn/
....
....
FIN DE CLAIRE AUSTRID
Serveeritud sidruni ja Mignonette kastmega
3,50€ / 1pc 18,90€ / 6pc
Nii palju kui on sööjaid on ka arvamusi austrite kohta. Nende väljanägemise kohta oleme kõik üksmeelel – üsna ebaapetiitne ning üks meist ei suutnudki üldse austrit proovida. Üks meist arvas, et nende söömine vajab lihtsalt harjutamist ning iga korraga on maitse paremaks muutunud. Teine tundis, et need maitsevad nagu kummine meri ja mitte midagi muud. Tahaks isegi uskuda, et enamik inimesi naudivad pigem nende kõrget hinda, kui maitset. Austrite kõrvale lisatud sibulasegu oli aga supermaitsekas ja meeldis kõigile!
..
FIN DE CLAIRE OYSTERS
Served with lemon and Mignonette sauce
3,50€ / 1pc 18,90€ / 6pc
As many as there are eaters, there are opinions on oysters. We all agreed on one thing - the appearance is not very appetising, one of us couldn't even try it. One of us thought it was not so bad and the taste has improved each time she has tried one - eating oysters simply requires practice. One of us thinks that most people simply enjoy spending money, not the taste, because it just tastes like an ocean (don't understand the obsession). The onion mix in the middle of the plate was amazing though! We all loved it.
....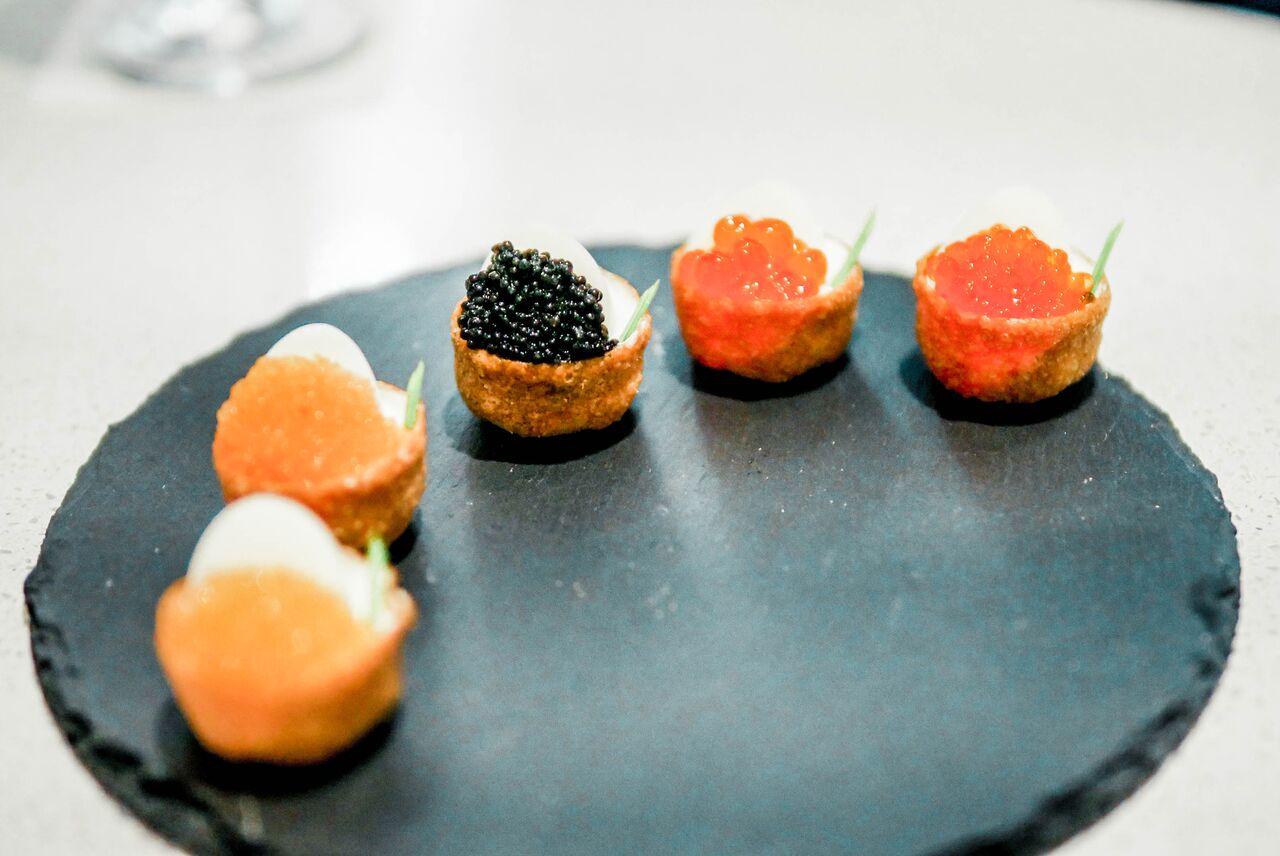 ....
HELSINKI MENÜÜ
Kollektsioon Soome kalamarjasid
Krõbeleivad, vutimunad, hapukoor ja viis erinevat kalamarja: siig, rääbis, merivarblane, keta lõhe ja külmsuitsu forell. (Pildil vasakult paremale).
Kriter Brut Baby, Chardonnay,
Chenin Blanc, Pinot Blanc, 20cl
20,00€
..
HELSINKI MENU
A collection of Finnish roes
Croustade cups, quail eggs, smetana and five different roes: whitefish, vendace, lumpfish, keta salmon and cold-smoked trout. (From left to right on the photo)
Kriter Brut Baby, Chardonnay,
Chenin Blanc, Pinot Blanc, 20cl
20,00€
....
....
RÄÄBIS - ehk vendace. Rääbis on väike magevee lõheline, keda leidub ka Eestis ning see kalamari pidavat Soomes kõige populaarsem olema. Väga pisikesed oranžikad marjad, üsna omapärane tekstuur ning küllaltki soolane kooslus.
..
VENDACE roe or ¨mähnä¨ has been enjoyed by Finns for hundreds of years and in the 19th century was an important point of income for many in central Finland. Traditionally it has been served with cream, onion and pepper, but in the past it has also been used as an ingredient in fish soups and other Finnish delicacies. Very small eggs and orange in color. The distinctive texture together with mild, fresh, exciting taste definitely makes Vendace roe an all time favourite.
....
....
KETA LÕHE - Väga suur kalamari võrreldes teistega. Maitselt oli üsna robustne ja pigem ei meeldinud meile.
..
KETA SALMON - These extremely large Keta Salmon eggs pack a strong and distinctive flavor which will not be left unnoticed. We personally did not enjoy this very strong flavor. This product has been in high demand by our Russian clients for almost two decades.
....
....
SIIG - ehk whitefish. Natuke sarnane rääbisega, aga meile tundus, et rääbise mari on maitsekam ja seega eelistasime seda.
..
WHITEFISH - Similar to Vendace. But we felt like Vendace was better, so we would recommend Vendace, because its taste was a little more interesting.
....
....
MERIVARBLANE - ehk lumpfish. Pisikesed kalamarjapallid on kõrgelt nõutud just oma välimuse pärast - neid kasutatakse tihti kaaviari asenduseks. Kuna aga lumpfishi/merivarblase mari on värvilt väga ebaühtlane, siis peaaegu alati värvitakse see punaseks või mustaks. Meile väga meeldis.
..
LUMPFISH roe has been on high demand, because it's used as a substitute to Caviar. Also widely used in cooking as a tasty accessory finish. Because lumpfish roe differs so much in color, it is colored almost without exceptions into red or as our product, black. Even though lumpfish roe is appreciated, it is no match to real sturgeon caviar, but is preferred over seaweed product such as caviar.
....
....
KÜLMSUITSU FORELL - Üks kindel lemmik! Pehme, kuid meeldivalt suitsune lõhn ja maitse. Tänu tugevale aroomile soovitavad asjatundjad seda marja lisada kastmetele ja teistele roogadele.
..
RAINBOW TROUT/ COLD-SMOKED TROUT - soft in taste but with a pleasant twist: it has been cold smoked. A delicate smoky flavor is an experience to remember. Because of the strong aroma excellent for sauces and other dishes.
....
....
Veidi Vikipeediat neile, kellele kalamarja ja kaaviari erinevuses segadust tekitab
Mis on kaaviar?
Mitte lihtsalt inglise keeles kalamari, vaid ühe kindla eelajaloolise kala mari.
Tuurlaste mari - haruldane ja kallis delikatess.
Kaaviar ehk must kalamari on maailma vanim delikatess. Aristokraadid Vana-Roomas, Kreekas ja Venemaal nautisid seda enne, kui toidulauale ilmusid austrid, šampanja ja trühvlid. Keskajal oli nii mõneski riigis seadus, mis käskis kõige kvaliteetsema kaaviari reserveerida monarhidele.
Kaaviari saadakse peamiselt tuuralt, sterletilt, sevrjuugalt ja beluugalt (kõik on tuuralised). Hinnatuim on sterleti mari, mida nimetatakse ka kuldmarjaks; kõige suureteralisem on beluuga mari. Olenevalt kala liigist, kala vanusest ja marja küpsusastmest varieerub kaaviari värvus helehallist tumepruuni, rohekasmusta või kuldmustani.
NB! Kaaviar sulab suus sõna otsese mõttes. Ausalt. Seda peab ise proovima! Trühvliõliga kaetud röstsai koos kaaviariga on täielik taevas!
..
What is caviar?
Sturgeons' roe - rare and expensive delicacy.
Caviar, in other words black roe, is one of the oldest delicacies in the world. Aristocrats in Ancient Rome, Greece and Russia were enjoying it before there were oysters, champagne and truffles. In the middle ages, there was a law in many countries, to serve the best quality caviar only to monarchs.
Caviar is mostly collected from sturgeons, sterlets, belugas, which are all from the sturgeons family. The most appreciated is the sterlet roe, which is called the golden roe. Depending on the species and the age of the fish, as well as the maturity of the roe, the color varies from light grey to dark brown, even green-blackish.
NB! Caviar truly melts in Your mouth. Really. It is something that You need to try for yourself! Toast with truffle oil and caviar is heaven on earth!
....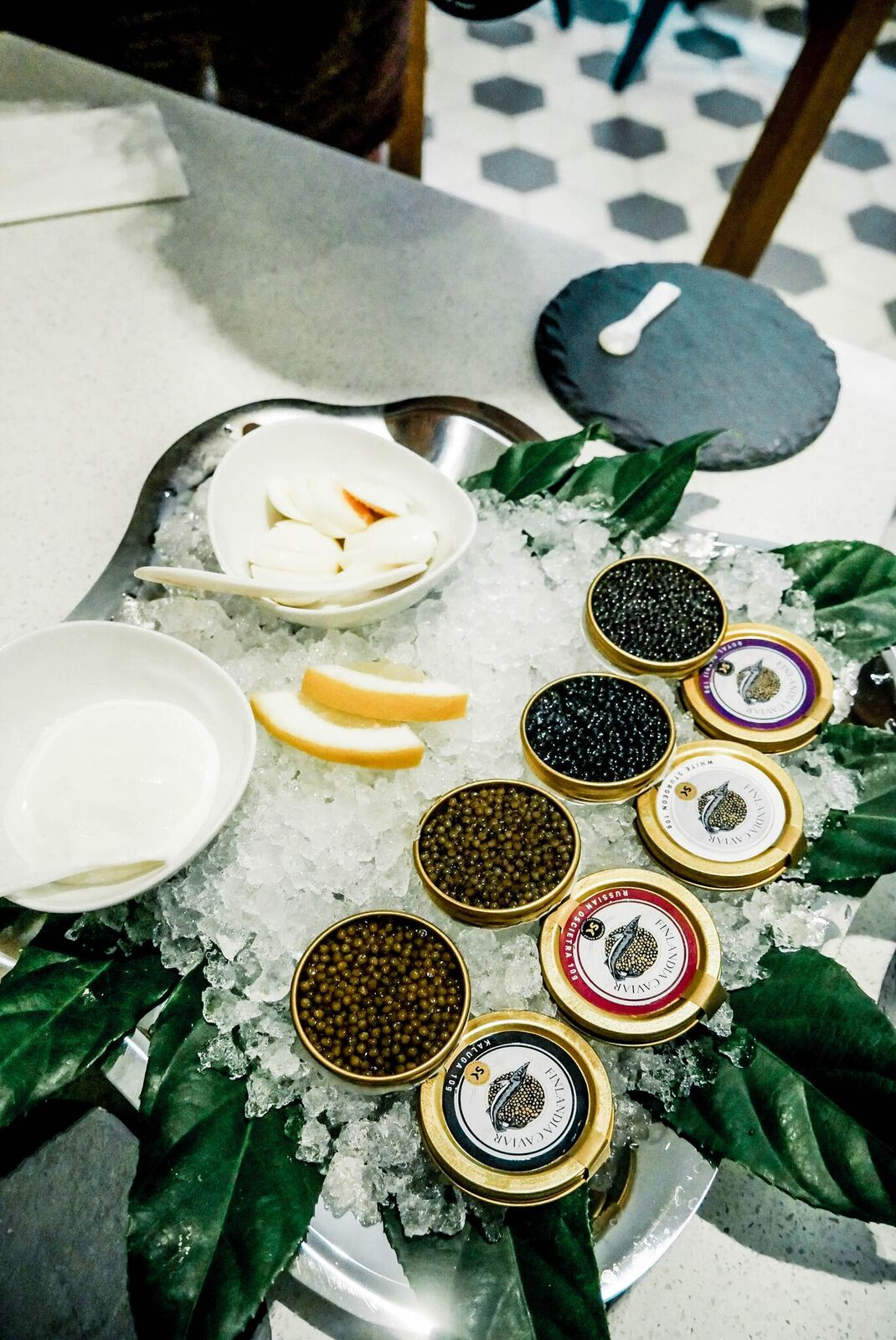 ....
KAAVIARI NELJANE SET
Neli üheaegselt serveeritud erinevat kaaviari on ideaalne võimalus teha tutvust kaaviari maailmaga ning avastada iga kaaviari ainulaadseid omadusi.
SIBERI TUUR 10g
VALGE TUUR 10g
VENE TUUR "OSCIETRA" 10g
BELUUGA KALUGA 10g
65,00€
..
CAVIAR COLLECTION SET OF FOUR
Four different caviars served simultaneously is an excellent way to get familiar with the world of Caviar and to learn to appreciate each products unique characteristics.
SIBERIAN STURGEON 10g
WHITE STURGEON 10g
RUSSIAN STURGEON "OSCIETRA" 10g
BELUGA KALUGA 10g
65,00€
....
....
VALGE TUUR - Üks huvitav kaaviar, sest on maitselt väga kerge ja pehme. Mõnevõrra ka kreemjas ja võine. Tuur ise on valge, kuid mari on musta värvi.
..
WHITE STURGEON - One of the most interesting caviar, because it is very mild and soft. The taste is slightly creamy, even buttery. According to their name, the barley itself is white, but caviar is black and small grains.
....
....
BELUUGA KALUGA - Kõige suureteralisemad marjad ja tugev maitse. Üks meie lemmikuid just tänu oma pähklisele maitsele.
..
BELUGA KALUGA - Large light golden eggs with a pleasant hint of nuttiness.
....
....
SIBERI TUUR - Kõige sagedamini kasutatud tuuraliik kaaviari tootmiseks. Pisikesed mustad marjad, mõnusalt soolaka maitsega.
..
SIBERIAN STURGEON - Most commonly used sturgeon species for caviar production aside from various hybrids. Small, black grains with fresh scent of the sea.
....
....
VENE TUUR - Traditsioonilises stiilis kaaviar - suured hallid marjad täis tugevat mere maitset ja lõhna. See kaaviar on maailmas väga tuntud ja hinnatud ning ka meile väga meeldis. Selgelt võine/õline mekk oli väga nauditav.
..
RUSSIAN STURGEON - Traditional style caviar - large, gray eggs filled with strong scent of the sea. Exactly what caviar is supposed to be. Very well known and appreciated worldwide, and for a good reason! It's strong flavor with a fresh, smooth aftertaste will always be popular among true caviar lovers.
....